https://www.currenttrendnews.com
Cardinal George Pell will be freed from jail after Australia's highest court overturned his convictions for child sexual abuse.
The ex-Vatican treasurer, 78, had been the most senior Catholic figure ever jailed for such crimes.
In 2018, a jury found he abused two boys in Melbourne in the 1990s.
But the High Court of Australia quashed that verdict on Tuesday, meaning the cardinal will immediately stop serving a six-year jail sentence.
The Australian cleric had maintained his innocence since he was charged by police in June 2017.
His case has rocked the Catholic Church, where he had been one of the Pope's most senior advisers.
A full bench of seven judges ruled unanimously in
Cardinal Pell's favour,
finding that the jury had not properly considered all the evidence presented at trial.
It was the cardinal's final legal challenge, after his conviction was upheld by a lower court last year.
"I have consistently maintained my innocence while suffering from a serious injustice," Cardinal Pell said after the decision on Tuesday.
How was Pell jailed?
In December 2018, a jury found him guilty of sexually abusing two 13-year-old choir boys in private rooms of St Patrick's Cathedral in the mid-90s - when the cleric was archbishop of Melbourne.
The convictions included one count of sexual penetration and four counts of committing indecent acts.
The trial heard testimony from a man alleged to be the sole surviving victim. It also heard from dozens of other witnesses - none were alleged to have directly seen abuse.
Cardinal Pell
appealed against the verdict in Victoria's Court of Appeal last year, but three judges upheld the decision by a 2-1 majority.
Why did his appeal succeed this time?
The cardinal argued that the jury relied too heavily one person's evidence The judges agreed, saying the jury did not properly assess other information.
"The jury, acting rationally on the whole of the evidence, ought to have entertained a doubt as to the applicant's guilt," said the court in its judgement.
Who is George Pell?
Cardinal Pell was among the highest-ranking figures in the Church's global hierarchy.
Made a cardinal in 2003, he was summoned to Rome in 2014 to help clean up the Vatican's finances.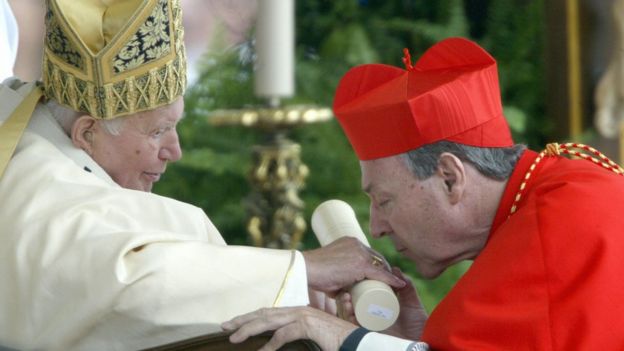 He forged a reputation as a disciplined Church leader who held strict conservative views against same-sex marriage, abortion and contraception.